Il mostro verde – The green Monster
Il mostro verde - the green monster
Booklet, 10 x 14 cm. 8 pages. Digitalfotos and Print. Printed in Berlin 2020. Authors: Antoanetta Marinov and Francesco Lendaro.
Long ago, at my mother's home in Italy, when my nephew was still a young boy, a
little green monster became stuck out of place. The mystery and delight of this
moment have since been stuck in my memory.
Now, over two decades later, the time feels right to bring the story back to life.
I want to see what happened!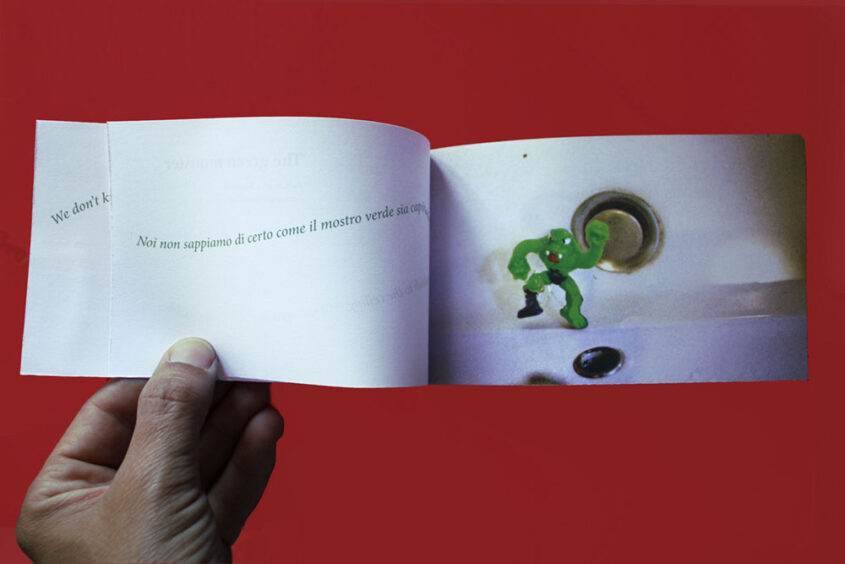 This mischievous green monster takes on new meaning, facing a global pandemic in which an unseen and mysterious virus creeps across the world.
The photographs in this limited edition booklet capture the whimsy of childhood, alongside the enduring conundrums of fixing problems, resolving mishaps, and trying to salvage the things we become attached to.
For this project, I collaborate again with Bella Diamante of bdpublishing, who shares my admiration for the fantastical creativity of children. Future chapters in this series will feature and celebrate the work of young people.